| | |
| --- | --- |
| | |
---
Food and Health Carnival March 31
Posted: 30 Mar 2011 11:02 PM PDT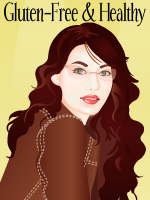 Do you have a Favorite Recipe, a Great Tip, a Great Resource or a Giveaway? Do you have a Giveaway Linky or Recipe Carnival on your blog? Or maybe you would just like to share your Food or Health Blog/Website.



Add your link to my Food and Health Carnival.
All I ask for in return is for you to add my blog button above to your blog and/or a link to my website.
Lisa's Gluten-Free Advice and Healthy Living
.
Another idea is that you could add my link to your blog roll. Thank-You.
Add Your Gluten-Free and/or Healthy Living Blog to my Directory.
(if you added your blog to this directory before, please add it again. Thank-you).
If you like my blog, I would love it if you would sign up for my newsletter. (in the blue box on the right hand column).
This week I will share with you:
My Favorite Gluten-Free Foods
Be sure and check out my current giveaways located on my right side bar. Have a great week.
Eat Smart Kitchen Scale Review from CSN Stores
Posted: 30 Mar 2011 10:41 PM PDT
I got to try out this food scale from CSN Stores. It is the Eat Smart Precision Pro Digital Kitchen Scale in White and Chrome.
Features and Specifications:
•Digital kitchen scale
•Easy to use multifunction home scale
•Perfect for cooks, dieters and families
•Compact design and easy two button operation
•Eliminate the weight of a plate
•3 Minute auto shutoff
•Great for allowing cooks time to prepare ingredients while also maintaining battery life
•Highly accurate and aesthetically pleasing
•Capacity: 11 lbs
•EatSmart provides 2 years warranty
•Includes 4 AAA batteries
I love this food scale. It light and compact so that it does not take up allot of room in the kitchen. It is so easy to use. I turn it on and then I press the Unit button, it measures in ounces, pounds, grams and in Kilograms. And it will easily subtract the weight of the bowl or plate from the item you are weighing. I love the look of the scale. The scale comes in allot of different colors. All in all I give this scale 5 out of 5 stars. This is an amazing product.
I love
CSN Stores
. It is easy to order from them and it usually takes from 1 to 2 weeks to get the item, depending where it was shipped from. I give CSN Stores 5 out of 5 Stars.
DISCLAIMER: I was not financially compensated for this post. I received samples of this product for review purposes. The opinions are completely my own based on my experience.
Posted: 30 Mar 2011 11:43 PM PDT
I was just contacted by
MyCityCuisine
. They are looking for contributors. I encourage you to go on over there and check out the website and contribute to MyCityCuisine.
What is MyCityCuisine?
MyCityCuisine
is a project to create a free, reliable and up-to-date guide to the most original and tasty traditional foods from different countries of the world. It is an open project, so they encourage everyone to contribute to it. Please write about original and tasty traditional foods in different countries including your own country.
Guidelines on how to contribute
.
DISCLAIMER: I was not financially compensated for this post.
Gluten Free Food Fair - May 7, 2011
Posted: 30 Mar 2011 01:00 PM PDT
It is estimated that for each person diagnosed with gluten intolerance, celiac disease and dermatitis herpetiformis, 90 are undiagnosed and dealing with health consequences. The average time it takes to diagnose celiac disease from the onset of symptoms is 10 years. Having celiac disease but not being treated for it could lead to serious health problems from osteoporosis to lymphoma to stomach cancer. While other diseases may be treated with a prescription pill, celiac disease has one cure - complete avoidance of gluten, the protein found in wheat, barley, rye and contaminated oats. Gluten free foods are now more widely available, but generally at a higher cost then comparable wheat based products. Three of our local GIG branches have banded together to organize this annual food fair allowing folks to sample foods from over 25 vendors and hopefully find products they enjoy and want to buy regularly.
INFORMATION
The Gluten Free Food Fair is a family event, where one can enjoy meeting people and sampling delicious gluten free foods. There will also be a door prize drawing with an estimated 25-30 baskets of gluten free products. The GIG support groups will be distributing information about monthly meetings and other events in the area. There will be resource tables staffed by health care providers knowledgeable about gluten intolerance.
VENUE:
All Saints Catholic Church
3847 NE Glisan St. Portland Oregon
In the GYM
DATE:
Saturday, May 7th, 2011
TIME:
11:00 am - 2 pm
PRICE:
$5 per person
$10 per family (of two or more)
DRAWINGS FOR DOOR PRIZES:
Drawings to be held at 12 noon, 1 pm and 1:45 pm
The entrance fee includes one door prize ticket.
Additional tickets can be purchased once inside.